Well hai there! I'm 35 weeks!
My last doctor's appointment went pretty well (other than feeling violated). My doctor told me I'm 1 cm dilated... and she confirmed there ain't no plug in there anymore.
HOLY FREAKIN COW.
I keep getting these stomach/back pains. Jess says its contractions, whatever they are, they are painful. Sometimes, it'll make me stop and just... bend over for a few seconds. Totally not fun, especially since I'm trying to prepare the house for Q.
Its kinda exciting though, knowing I could have him at any moment. My doctor seems to think I won't go to 40 weeks, she sent me home the other day with all my paperwork/records incase I go into labor before our next appointment. Who knows? Jess had Wyatt at 36 weeks. But then there is my mama. She had all three of us girls (yes, there is another sister) EXACTLY on her due date each time. WEIRD.
Sorry for the bathroom pictures. I'm actually feeling pretty today.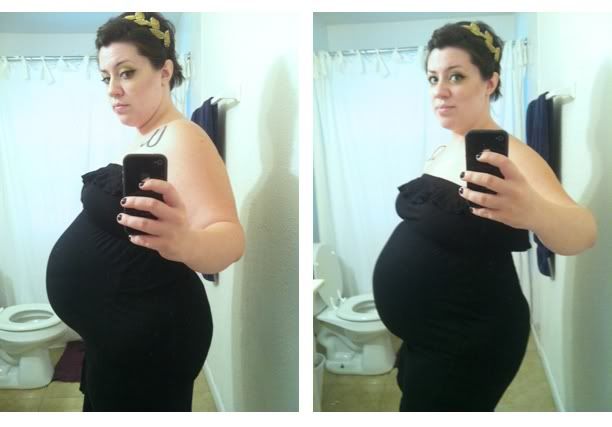 Since I'm so close to the end, I've been thinking about "after" Quentin is born. I'm not too nervous, I just know there will be a lot of changes. But what I am curious about is the ole breastfeeding gig.
I'm planning on breastfeeding, so if you have any advice to offer, I would love to hear; (and advice on how to help your husband/boyfriend deal with breastfeeding would be helpful too. Thats what I'm more nervous about to be honest.)